Company Overview
Training and Transformation Business Solutions is a 100% Black female owned consulting firm aimed at providing services to the retail industry to improve performance, increase profits and assist organisations with process, procedure and development needs. We pride ourselves in our dedication and commitment to skills development.
Training through T&T Business Solutions is the launch pad to the next stage of your Company's success. With growing pressure placed on business to guarantee success, there is no better option than to train and equip staff and management with the relevant knowledge, skills and attitudes to competently execute their jobs. The training will create a workforce of professionals within the organisation in various job categories creating a culture of exceptional performance, productivity and ultimately a World Class company delivering on sustainable profitable growth.
T&T Business Solutions adopts the blended learning approach that integrates E-Learning, face to face and distance learning. This allows business the opportunity to acquire a portfolio of managerial and operational skills to enhance performance potential according to the basic principles of adult learning which is learning at their own pace and time.
Our target groups cover the spectrum of CEOs, executive directors, senior managers, first line managers and operational staff. They occupy important positions in private and public enterprises in many industries.
Whilst our main focus are retail and wholesale business in the automotive industry, we also render services in industries such as:
Banking
Information Services & Systems
Government
Hospitality
Retail
The management team at T&T is equipped with many years experience in management services and process facilitation obtained in various retail industries. Our development and facilitation staff are all qualified subject matter experts. The proof of our efforts are evident in the results we achieved with our corporate retail clients.
T & T is unique in the service and support that it offers. Our competitive advantage can be summarized with the following unique selling points :
· Outstanding experience and expertise in the automotive industry
· Tailor-made programs and service offerings unique to your needs
· A young innovative and dynamic team of executives and associates
· Consistent research into local and global best-practices
· Putting You first
Staff and Management Compliment and Infrastructure
T&T has a small executive team that manages the company and optimizes the day-to-day operations of the company. The executive team has extensive experience in various fields in the automotive industry, as well as in-depth management and leadership skills.
Reporting to the executive team, are a number of permanent trainers and developers, as well as a number of associate trainers and developers. The latter gives the company the stability it requires, but at the same time, provides flexibility to deal with projects of various sizes in a cost-effective manner. The above named is supported by a small but highly efficient administrative component.
T&T is also well represented on a regional basis through-out South Africa with both trainers and administrative staff that are regionally based and that are able to handle regional projects locally.
With each project or major intervention, T&T will provide a detailed project plan with various milestones and project objectives, including timelines and outcomes, to be achieved. This guides and structures the execution of projects.
Certified copies of resumes of all relevant trainers and staff will be provided when quoting for specific projects. All motor industry-related experience, projects and formal qualifications will be indicated.
Evidence of Training Projects
The T&T team, including both the permanent team as well as associates have been involved in a wide range of automotive-related projects as well as specific large scale training and development projects locally and internationally. Some of the projects include:
Ø The compilation and implementation of comprehensive training and development strategies for various OEM's and dealer groups, locally and internationally.
Ø The setting up of Academies locally and internationally with all the relevant learning and development components and managing the above named successfully for a number of years.
Ø The introduction of career-pathways and competency frameworks for large OEM's.
Ø The introduction and development of various Reward and Recognition components.
Ø The introduction and implementation of Performance Management Systems for Dealerships.
Ø The development of virtual Academies and Training Campuses – including websites and full implementation and use of learning management systems.
Ø The running of a FET college and the offering of the level 4 qualification in Sales and Support Services.
Ø The planning and successful execution of numerous product training launches (including various premium brands) with all the relevant components i.e. development of cutting edge training material, pre-work, face-to-face training, post-work and assignments, ride and drives, incorporation of e-learning components, etc.
Ø The use of various assessment tools in large projects to enhance the effectiveness of the projects.
Ø The implementation of dealer profit improvement strategies across numerous brands.
Training Support and Dealer Engagement
T&T prides itself in getting dealer buy-in and support (in conjunction with the OEM) before any dealer projects and training are implemented.
In turn, T&T understands and values the impact of supporting dealers and training departments before, during and after learning interventions. All training interventions are developed with the customer in mind. He transfer of learning and the retention of key learning messages can only be performed adequately when the training provider, the dealer management and the management team of the OEM has an integrated strategy to support the dealers in their learning and performance enhancement interventions.
Our Offering
T&T Business Solutions adopts a blended learning approach to training. The training incorporates methodologies, methods and modes that are Industry benchmarks.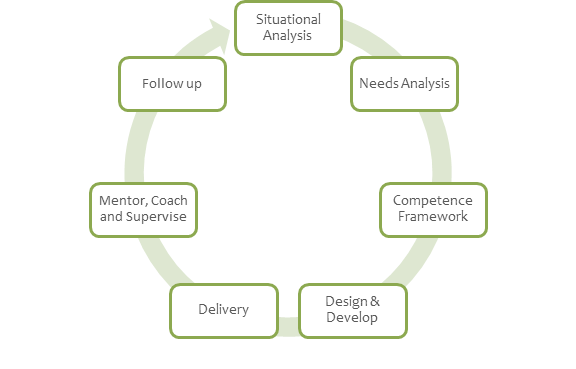 Situational Analysis
The objective of this phase is to gain a detailed understanding of the current situation with regards to:
Ø People
Ø Process
Ø Systems
The approach in this phase is to conduct quantitative and qualitative research. T&T Business Solutions is able to offer the following services;
Skills and Competency gap assessments in all disciplines (Parts, Service & Sales)
Performance Consulting (Dealer Operations)
Mystery Shopping (Customer Experience)
Skills Enhancement Initiatives
Needs Analysis
Desired End State:
Training Solutions that Align with Business, Dealer and legislative Objectives and which creates a High performance culture within the Dealer Network that supports long term profitable growth.
"Big picture" approach: In formulating the end State T&T Business Solutions proposes detailed engagement with the Management and Key Stakeholders in the Dealer Network. T&T Business Solutions' Training Philosophy is underpinned by the formation of partnerships with all relevant stakeholders. We prefer to look at the concern in the broader scope of the business with a long term value adding solution. Should training not be the only resolution we will suggest and recommend other alternatives that would assist in addressing the problems.
Conduct a Needs Analysis:
We prefer to do this before a training programme is customized for our clients so as to ensure that the outcomes of the training are in line with the learner's and the organisations objectives and needs.
Audit and Assessment of the current competency and skills levels of the Dealer Staff, DACUMS, Workshops, Position Profiles, Competency Profiles
Gap Assessment & Evaluations will entail:
Ø Face to Face Interviews
Ø Business case Studies
Ø Self & Managers Assessments
Workshops
Ø Clarify Business Need and Objectives
Ø Establish clear link to Training Strategy
Ø Stakeholder Buy-In and Support
Competency Framework
T&T Business Solutions proposes the following competency framework aimed at creating a high performance culture within the Dealer Network.
Ø Development of Position Profiles
Ø Development of Competency Profiles
Ø Development of Learning Pathways
Ø Development of Individual Development Plans
Ø Development of Complete Training prospectus
Design and Develop
All learning modules:
T&T Business Solutions will develop learning solutions that target the specific needs that have been identified.
Sales Skills,
Customer Experience,
Management Development,
BBBEE Learnerships, Cadet Programmes,
Parts Sales Training,
Service Advisor Programmes,
Product Training,
Mystery Shopping Programme,
Performance Consulting Interventions,
Rewards & Recognition Programme,
Mentoring & Coaching Workshops,
Continuous Development,
Dealer Compliance Training
Certification of Staff and Associates
T&T have a range of Subject Matter Experts (SME's) that are utilised for development and facilitation to ensure the quality and effectiveness of our interventions.
The T&T developers and facilitators all come with experience and certification. The relevant team members will be introduced to our client together with their credentials for each intervention.
Amongst others, our associates are qualified in the fields of:
· Design and development
· Facilitation
· Assessment
· Moderation
· Skills Development Facilitation (SDF's)
· General OD-ETDP practices